Fling it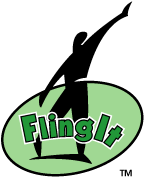 FlingIt™ allows users to instantaneously "fling" Web pages from the desktop computer to the Palm OS computer. Students can decide whether or not to include graphics and determine the link depth of the captured Web pages. Students can then view Web-based content at home, on the bus, or in their seats. FlingIt sites can also be beamed from one Palm computer to another for the sharing of Web-based resources. FlingIt is used in classrooms for offline research (of online sources), creating a personal reference library, and group research projects, among other applications.
System Requirements:
Palm Compatible Handheld with OS version 3.5 - 5 (Palm OS 4.1 - 5 recommended).
Macintosh:

See "known issues" in the Quick Start Guide.
Macintosh OS 9.x or OS X.
Palm Desktop 4.1.
Internet Explorer 5.0 or higher.
16MB of free RAM.

Windows:

Windows 98 or higher.
Palm Desktop 4.0.1 or higher (Palm Desktop 4.1 recommended).
Internet Explorer 5.0 or higher.
16MB of free RAM.
234 KB memory on Handheld needed for full installation. Files include: FlingIt.prc, SysZLib.prc
For More Information and Downloads:
FlingIt is now available

as part of GoKnow's Handheld Learning Environment. More information on this suite of handheld computing tools, as well as other handheld computing resources, product tutorials, and product support, are available at GoKnow, Inc.

Hi-CE is creating handheld resources for other operating systems, including Windows CE (Pocket PC). For information on these tools, or information on the creation or application of our Palm OS computing tools, visit our Handheld Computing Website

.