Hi-CE Handheld Software: Sketchy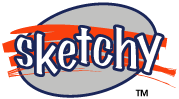 Sketchy™ is an animation/drawing tool featuring many pen options, geometric objects, up to 999 frames, and an easy-to-use interface. Helpful features such as duplicate, insert and delete allow quick and clean animation creation. Sketchy can be used in classrooms for diagramming, creating animations and presentations of various objects or phenomena, or for writing and sharing stories, among other applications.
System Requirements:
Palm OS 3.5 - 5 (Palm OS 4.1 - 5 recommended).
Windows 98 or higher, running Palm Desktop 4.0.1 or higher (Palm Desktop 4.1 recommended).
Macintosh OS 9.x or OS X running Palm Desktop 4.1.
114 KB memory needed for full installation.
For More Information and Downloads:
Sketchy is now available

as part of GoKnow's Handheld Learning Environment. More information on this suite of handheld computing tools, as well as other handheld computing resources, product tutorials, and product support, are available at GoKnow, Inc.

Hi-CE is creating handheld resources for other operating systems, including Windows CE (Pocket PC). For information on these tools, or information on the creation or application of our Palm OS computing tools, visit our Handheld Computing Website

.